COMMON TIME PUTS A GREAT DEAL OF EFFORT INTO AFTER-SALES SERVICE TO ENSURE THAT YOUR WATCH WILL LAST A LIFETIME.
1. anti-scratch film
At COMMON TIME, all watches wear an anti-scratch protection film.
Therefore, there will be no scratches on the watches in our stores.
You can try on and purchase watches in our stores with peace of mind.
2. reliable compensation support
COMMON TIME offers a "peace of mind support" program, which is different from the manufacturer's warranty, to compensate you in the event that your watch is dropped or otherwise involved in an accident.
You can receive coverage for 3 years with a deductible of 1,000 yen for any number of times.
Please ask our staff for details.
There is no restriction on the area of ​​residence of the enrollee. However, it is limited to those who can accept repairs at the store.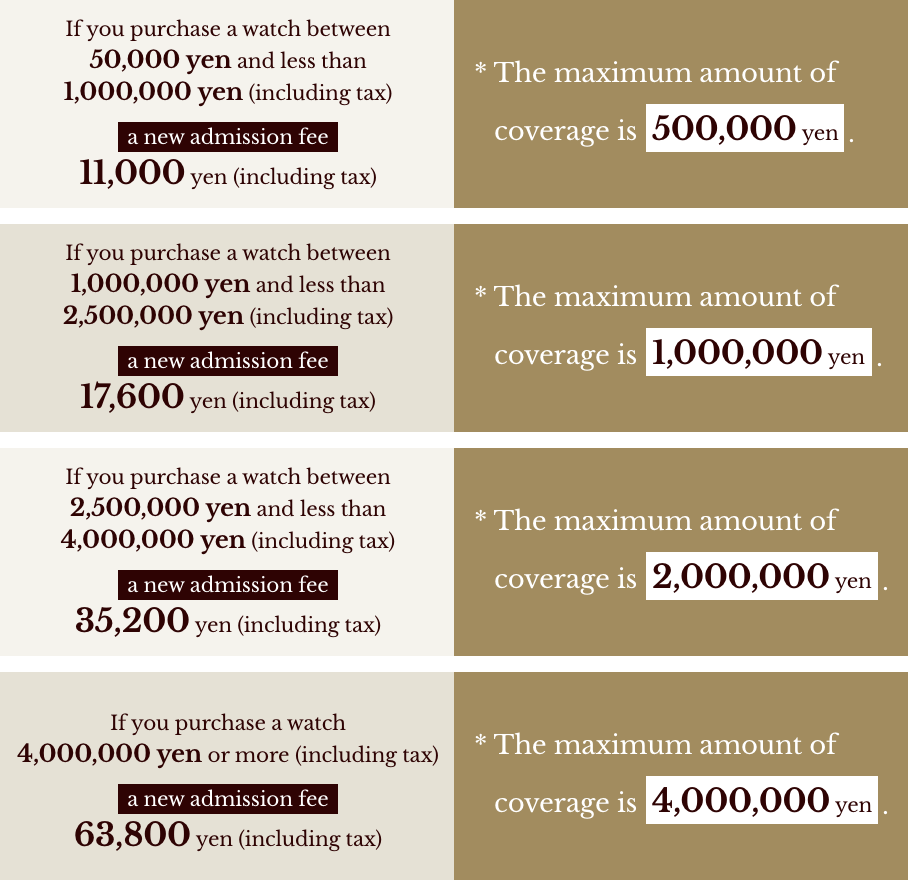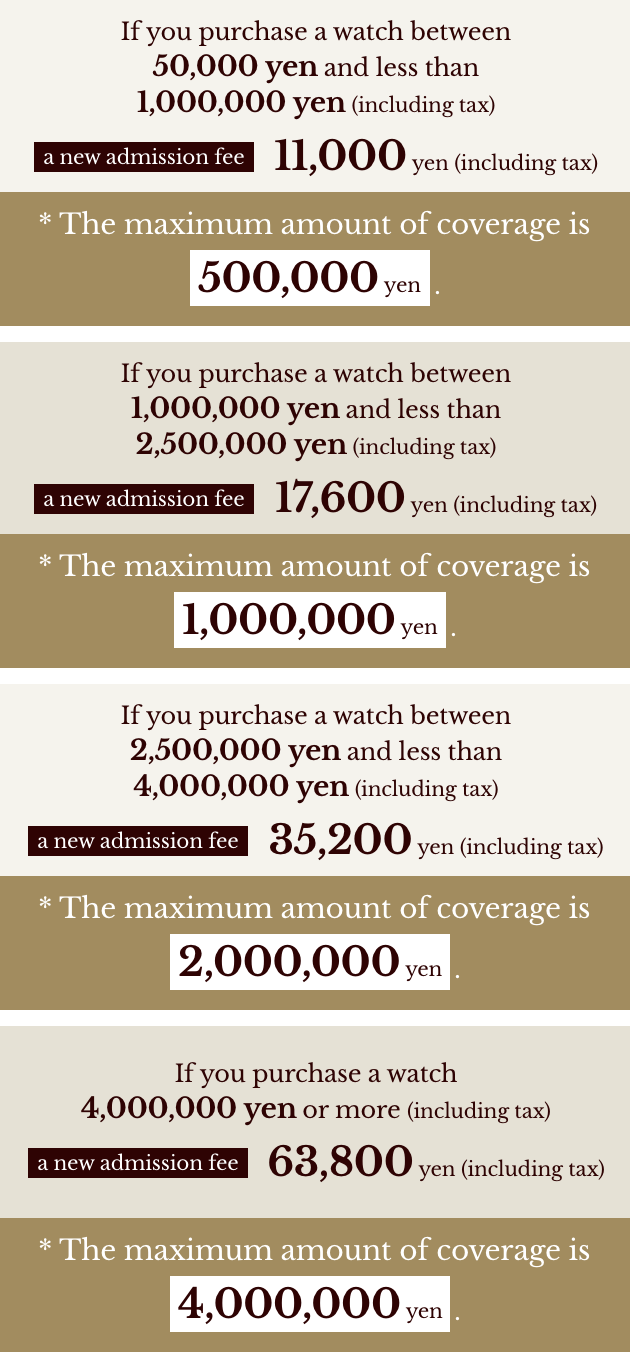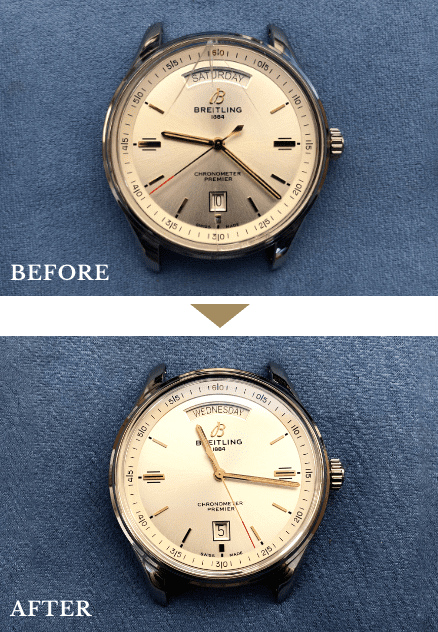 3. belt sizing service
We will always adjust the size of metal belts for watches purchased at COMMON TIME free of charge upon request.
We will adjust the size by removing and adding frames, but please bring your own frames if you wish to add frames.
4. free labor charge for belt replacement
FOR WATCHES PURCHASED AT COMMON TIME, WE WILL PROVIDE A SERVICE CHARGE FOR THE REPLACEMENT OF LEATHER BELTS AND BRACELETS.
In addition to ordering genuine brand belts, we can also make fully custom-made leather belts in any thickness of leather, material of leather, color of stitching, length of belt, and shape.
The belt can be changed according to the season or fashion.
(Please note that a leather belt or bracelet fee will be charged for a new leather belt or bracelet.)
5. free watch cleaning
IF YOU USE YOUR WATCH FOR A LONG TIME, SWEAT AND DUST WILL MAKE YOUR WATCH DIRTY AND YOU WILL NEED TO CLEAN YOUR WATCH REGULARLY, PLEASE FEEL FREE TO ASK US. WE WILL ALWAYS CLEAN YOUR WATCH FREE OF CHARGE IF YOU PURCHASE IT AT COMMON TIME.
6. free accuracy check
Any watch purchased at COMMON TIME will have its accuracy checked at any time free of charge using an accuracy tester.
We recommend that you check the accuracy frequently to ensure that everything is resolved within the warranty period.
7. free magnetic strip check and de-magnetization
Normally, magnetizing a magnetized watch will cost from 3,000 yen to several tens of thousands of yen, but we will inspect the magnetic strip and remove the magnetization as many times as you like, free of charge, for as long as you like after purchase.
*To be sent to the brand, depending on the condition, for a fee.
*Please be careful not to place the watch on the TV or near electrical appliances to avoid magnetic strips.
8. waterproof inspection services
Watches purchased at COMMON TIME are always tested for water-resistance using a water-resistance tester free of charge.
Water resistance may be reduced due to distortion of the case or deterioration of the packing inside the case.
Normally, there is a charge for sending the watch to the brand, but COMMON TIME can perform a full-scale water-resistance test at the store.
9. special events
COMMON TIME regularly holds members-only events with special guests.
These are special events where you can be among the first to experience the newest products and enjoy the brand's worldview in depth.